State Basketball Championship Announced
The GBA announces its State Championship for Men and Women to be held from 24th to 29th of November 2015 at the Don Bosco Oratory, indoor complex Panjim. The Tournament is open to all registered Teams, clubs, Institutions and will shortlist the probables for the State Team to be representing Goa at the Senior Nationals to be held in Mysore from the 9th of Jan 2016.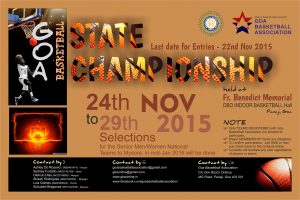 For the registered teams its a simple task now to register their spot in the tournament. All you need to do is just sms or call the coordinating team who will confirm you your participation. If any team needs to register or change a player or perhaps add a new player to the team, all you need is to ask directions by writing to goabasketballassociation@gmail.com or call Mr. Ashley do Rosario (9850451461).
ID cards will be mandatory at the Championship. If however, some cagers cannot participate in the tournament, and open trial will be conducted to give an opportunity to all those who could not register in a team.
For details and clarification, mail to goabasketballassociation@gmail.com.