I first started playing Basketball in 1974, when Mr C. F. Vaz came to Our Lady of the Rosary High School to teach us the game. Basketball was just being born in Goa at that time, and Mr Vaz was undoubtedly the father of the sport. He travelled to schools and colleges all over Goa, on his Scooter, coaching kids, encouraging principals and teachers and convincing parents to allow their children to play basketball. We played mostly on mud courts, and tournaments were held on the few cement courts available. We were so passionate about the game, we would give up almost anything for a chance to play – free time, holidays, recess at school. And soon the sport caught on and teams and tournaments abounded. It was amazing that spectators would throng the grounds for tournaments. Because, previously only football would draw such crowds. Besides the State championships, tournaments were organised by clubs in Panjim, Taleigao, Margao, Ponda and even Siolim.
I played Basketball for Our Lady of the Rosary High School, Dona Paula, Dhempe College of Arts and Science and Goa Medical College, I played for the Panjim Gymkhana, Dona Paula Dolphins and Customs and Central Excise. Our generous sponsors in those days were Mr Angle, Mr Maganlal, Panjim Gymkhana, Sesa Goa sponsored Dona Paula Dolphins, and later the Customs and Central Excise when we played on their team. A sponsorship usually meant the kit – No Nike, Reebok or Adidas for us, just over sized thick cotton T-shirts, rubber-soled canvas shoes – PT shoes we called t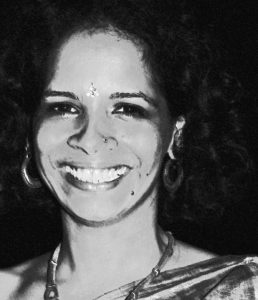 hem, and socks. And how thrilled we were to have these.
I represented Goa at:
National Mini-Basketball Championships, Nasik 1975
National Sports Festival for Women, New Delhi 1975
National Mini- Basketball Championships, Kottagudam 1976
National Sports Festival for Women, New Delhi 1976
National Senior Basketball Championships, Bangalore 1977
National Junior Basketball Championships, Bhilwara 1978
National Sports Festival for Women, Jabalpur 1980 – Silver Medallists
National Sports Festival for Women, Jaipur
National Junior Basketball Championships, Goa 1981
National Sports Festival for Women, Gandhinagar 1983
West Zone Basketball Championship, Solapur 1986 – Silver Medallists
National Senior Basketball Championships, Calcutta 1986
Traveling for Nationals was certainly an experience – we crisscrossed the length and breadth of the country in second-class bogies with our reservations, packed like sardines, sometimes standing – the boys had the worst of it, as they had to give up any seating space to the girls and also act as protectors on these long journeys that sometimes took three days and nights. We slept on station floors and drank water from unspeakably filthy taps. But, we survived. We got tough. We started winning games. We got a reputation for being a good team. And we loved every minute of it.
My most memorable moments were winning a Silver medal at the Sports Festival of India at Jabalpur. The Goa team had won Bronze medals thrice before at Mini-Basketball level, but never anything at the senior level. So going up to receive the medal was a very proud moment.
The 6 weeks we spent at the India Camp, at Kanteerava Stadium, Bangalore in 1981 was unforgettable. It was the first time we were given training with some some scientific basis to it – weights and cross training, besides basketball coaching. It was inspiring to be a part of a group of the best sports-people from all over India. Since the training was for the upcoming Asian Games, the badminton and athletics teams were there as well. And the whole experience made me feel very proud to be sportsperson.