37th National GAMES: Goa Basketball Team Probables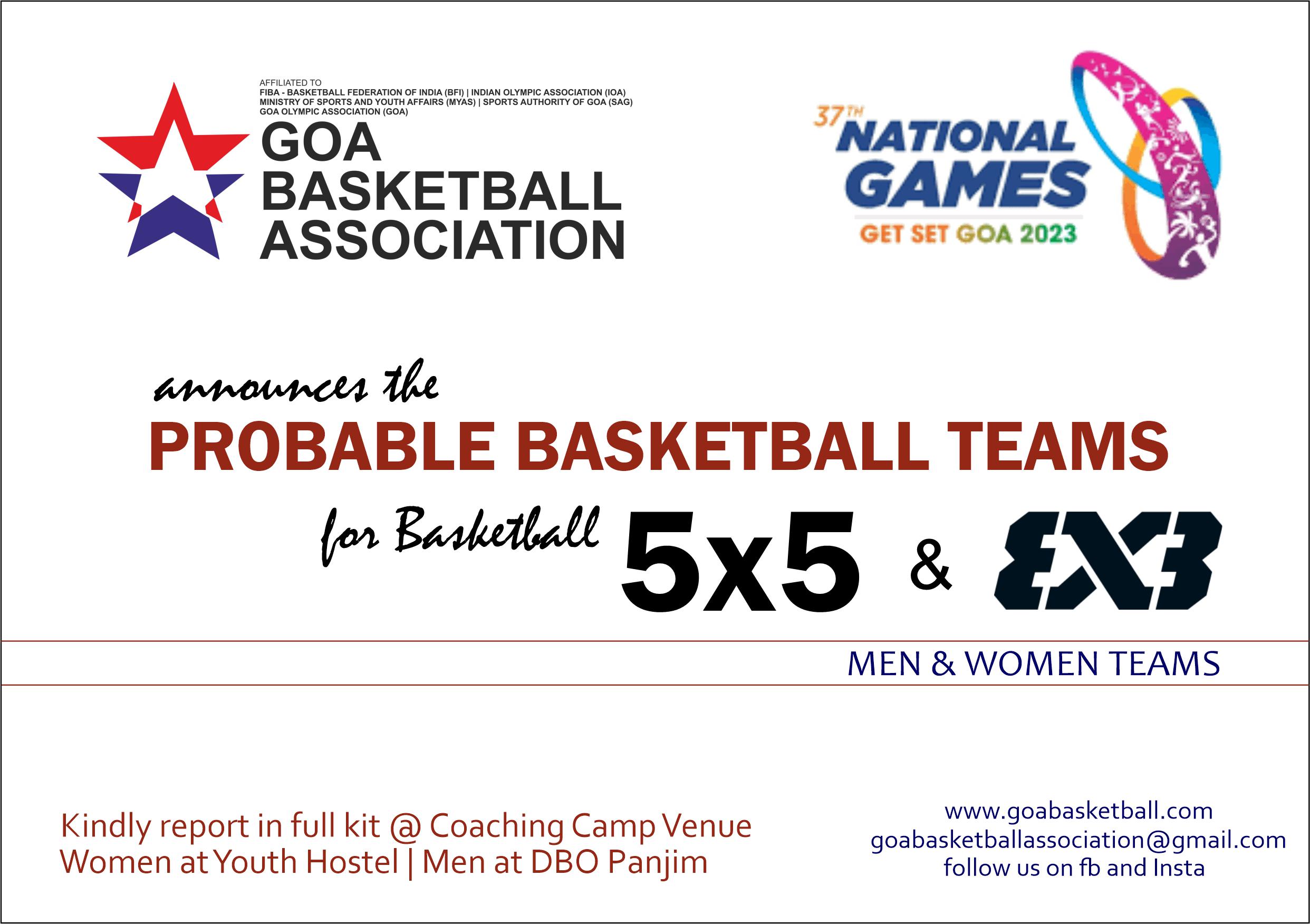 The Goa Basketball Selection Committee after meeting for two successive weekends have finalized the probable list of players to be picked at the Basketball Event of the National Games. The Basketball Event will be held in both the 5×5 and 3×3 formats at the Manohar Parrikar Stadium at Navelim.
As per the guidelines, 16 players for the 5×5 format have been selected from which only 12 will be finalized for the team after the intensive camps. In the 3×3 format instead, only 6 have been selected and 4 players will dawn the state Basketball Jersey.
The names of those selected are as follows:
MEN: Flobert Monteiro, Dillano Marchon, Abraham Menezes, Shaun Aranjo, Dekence Gavali, Jaden Fernandes, Jaden Vaz, Jason Nathan, Bharat Patil, Calvin D'Mellow, Jordan Dias, Jeshua Pinto, , Shubham Singh, Aaryan Raut, Tanish Lotlikar, Micah Pinto and Shivkumar Uandgoti.
WOMEN: Charmaine Fernandes, Yohaniva D'Souza, Rochelle Fernandes, Sarah Hussain, Breann Vaz, Assuciana Fernandes, Megan Amy Pereira, Rachel Fernandes, Diya Waghela, Amisha Lotlikar, Atika Suriya, Chrisann Noronha, Dielle Almeida, Shimei Nathan, Bhawna Pachouri, Meha Banu and Fleur Vas
The Girls Coaching Camp will begin on 8th September 2023 from 5 PM onwards. The Boys camp will begin on the 10th of September 2023. The venue and time will be announced later on this site as soon as it is confirmed. All the players are expected to report in full kit to the coach at the camp venue. All reporting hence forth will be coordinated through the coach and Manager who will coordinate the Training for the teams and finalise the final players in consultation with the GBA Selection Committee headed by Mr. Shane Dias [President]