Founder Member and Founding President of Goa Basketball Association
Born on 02.12.1930 at Bombay, to Menino Santana Furtado and Ana Paula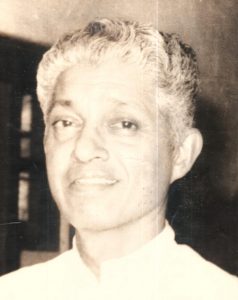 Po, he was the eldest of three children (Umberto and Gracy). His early schooling was done in Bombay English High School, Parel, and later in Don Bosco High School, Matunga (from 1944 till his matric). Having completed his graduation studies in Science (BSc) from Khalsa College, he joined the Salesian society to be a priest on 24th May 1953, at Kotagiri.
He was ordained a Salesian Priest on 29th June 1962 at Matunga and since then held responsible post in various Salesian Institutes, as follows:
1962 – 63 – Catechist                      Don Bosco, Matunga
1963 – 65 – Catechist                      St. Bede's, Madras
1965 – 68 – BEd Std                          Matunga, Mumbai
1968 – 70 – Principal                       St. Bede's Madras
1970 – 75 – Pref. of Studies          Don Bosco, Panjim
1975 – 76 – Studies                          UPS, Rome
1976 – 78 – Rector                            DBYC, Poona
1978 – 84 – Rector & Principal   Don Bosco, Panjim
1984 – 85 – Confessor                     Don Bosco, Lonavla
1985 – 86 – Confessor                     Don Bosco, Quepem
1986 – Medical Treatment  Provincial House, Bombay.
After battling more than a year of sickness with lung cancer, Fr. Benedict breathed his last on 13 June 1986, in the Provincial House, Mumbai.
His longest tenure of duty was Don Bosco Panjim, followed by a shorter stint in St. Bede's, Madras. His parents, hailing originally from Divar, already gave him the familiar support in Goan soil. His eleven year experience in Don Bosco's Panjim, has seen different faces of Fr. Benedict as Vocation Promoter, Head Master, Provincial Councillor (1979 – 82), Rector, and above all, Founder and President of Goa Basketball Association.
Legends of this spirited personality are many, of how he built the first public Basketball court, and promoted the game personally taking training sessions on court. He rallied together enthusiastic Boys and Girls who were willing to learn the game of Basketball in proper spirit and discipline and gave them the encouragement needed. According to a document retrieved from the Sports Authority of Goa, then known as the Sports Council of Goa, in the hand writing of Shri C F Vaz, the then Secretary, 17 registered clubs were members of the Association and promoted the sport with much vigour.
The Goa Basketball Association, wishes to pay homage to this great spiritual personality, who has laid the foundations of the Association in Goa, and has been instrumental in building up the foundations of the organisation of the Association, along with great personalities alongside him, such as, Shri Jagdish Surlekar (Principal of People's High School, Panjim) and Fr. Joseph Castellino (Principal of Loyola's High School, Margao).