Coach DEJAN Kamenjasevic, Head Coach and GM of Basicball Academy, Dubai was no ordinary visitor to Goa. It was his first ever visit to India, and in his own words, "Goa's Basketball enthusiasm has taken me by surprise".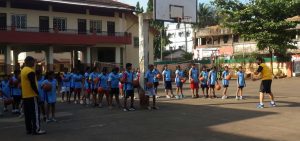 He conducted a 3 day workshop both in North and South Goa, (12 to 14 November 2015) the hubs being Fatima convent High School and Don Bosco Oratory, Panjim. A total of about 95 children in age of 10 to 18 participated. The grind was simple – it was just going to be basics and the real discipline and life of Basketball.
Though a majority in the camp were new faces, one could tell the marked growth and development in the game amongst the cagers in just 3 days. Imagine a full-fledged Academy.
Every session began with basic skills and techniques essential for basketball, followed by two special moments of stretching exercises. At the end of the session, Coach Dejan would religiously sit on centre court, and talk to the kids about what they learnt, what was important and above all – LIFE!
You can check out about Basicball academy, but one thing is certain – Goa has impressed the professional Coach, who is all set to work things out to make Goa its next hub.
Thanks to Coa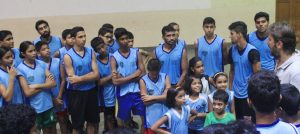 ch Dejan. Thanks to Basicball!!