State Basketball Championship 2015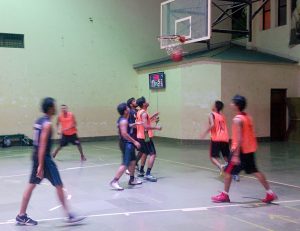 The Goa Basketball Association State Championships for Men and Women with 17 Men Teams and 5 Women Teams participating to claim the title, at the Don Bosco Oratory indoor Auditorium. In the first match of the day 'DBO A' defeated the young upcoming 'Lourdes Basketball Club' 78 – 22 in a rather one sided game. Shaun Aranjo (23pts) and Abelio D'Souza (12pts) scored well for DBO A, while Jeshua Pinto and Saurabh Miral both scored 7pts for Lourdes.
In the second match Sonics mauled over DBO B 81 – 25 to move up into the next round. Right from the beginning of the game Sonics dictated the terms with Tristan Lopes (18 pts) and Aaron Gabriel (23 pts) clicking well with swift passes and constant converts.
Earlier, 'The Alpha's' beat the more experienced Aliens in a low scoring match (23 – 20). Panjim Basketeers had the first win of the season as they beat the upbeat 'Sonics B' 31 – 28, in a closed fought match. The scores were tied for more than half the final quarter till Panjim Basketeers pulled their sleeves together. Also, Vasco Cagers were in their good sporting form as they beat Saligao Foxes 57 – 45, to move up ahead in the tournament.
For the first time, Goa Basketball Association and introduced the electronic scoring system with timer, to raise the standard and transparency of the game. Teams are requested to report as per schedule or face the penalty as per FIBA rules. The cooperation and spirit of the basketball teams has been commendable in the first two days of the tournament. Selections for the Senior men and women teams for the state will be done at the championship, to represent Goa at the Senior Nationals to be held in Mysore, from 9th to 14th January 2016.