Sonics Girls enter Semis, KJs and Assailants Men Enter Quarters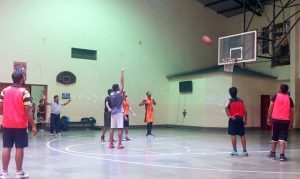 The Goa Basketball Association State Championships for Men and Women in the first women's match of the tournament saw a close fight between Sonics, Panjim and Silver Hawks, Margao. The Silver Hawks dominated the game in the first two quarters by a sleek one point lead. The Sonics however played an enthusiastic last two quarters with Rahila Pinto (9pts) steeling the game in their favour to end with a good 5 point lead. Sonics won 15 – 10.
In the pre-quarter match, KJ's thrashed Panjim Basketeers who were still celebrating after their first win against Sonics B. KJ's won by a whooping margin 93 – 10. Vishesh (6pts) did the bulk of the scoring for Panjim Basketeers, while Abraham (27pts), Ray (16pts), Julian (11pts).
In the next match, Assailants were far superior to Sonics Juniors and sealed their fate right from the first quarter and taking a double lead 48 – 23 to enter the quarters. Dilano (14pts), Mahesh (10pts) and Jason (6pts) played well for Assailants, while Preston (11pts) kept the lone fight for Sonics Juniors.