DBO and INFINITE State Basketball Champs 2015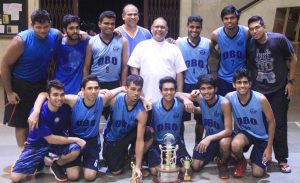 Don Bosco Oratory, Panjim and Infinite, Margao claimed the Men and Women Titles of the State Basketball Championship held at the Fr. Benedict Memorial Indoor Basketball Stadium on 29th November 2015.
In the Men's Final, YMCA still jinxed about a victory at the State Championship went down fighting to DBO in a nail biting finish, 62-61. The spirit YMCA Knights took a 3point early lead in the first quarter and were all set to create a record. But the much young lively DBO sprang into action in the second quarter taking a point lead. The thrilling final two quarters ended with an equal score (16 and 19 each) given the DBO cager the one point lead at the end to clinch the State Championship Title.
Shaun Aranjo (25 pts), Daniel Vaz (12 pts), Roy Pereira (10 pts) excelled for DBO, while Charles D'Souza (19 pts) and Shawn Soares (16 pts) played well for YMCA.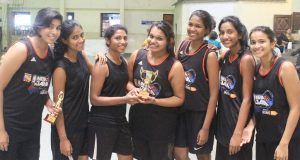 Earlier, in the Women's Final, Infinite had a comfortable win over DBO 32 – 20. Rachel Raposa (18pts) and Franzila Rodrigues (8 pts) controlled the game for Infinite, while Kezia Pinto (8pts), Saachia Nathan and Shaheed Rebello (4 pts each) played well for DBO.
Rachel Raposa and Danial Vaz were awarded the Most Valuable Players of the respective matches.
Fr. Bennett Aranjo, Administrator of Don Bosco Panjim, was the chief guest and gave away the trophies to the winners