State Basketball Selection Trials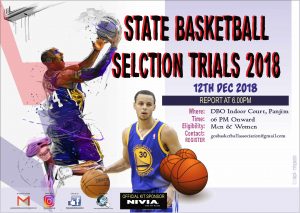 The Goa Basketball Association has announced its open selection trials to be held on 12th December, 2018, Wednesday, from 6.00pm onwards for Men and Women, to represent Goa at the Senior Nationals to be held in Bhavnagar, and then to be part of the Nationals Games to be held later.
Those who could not participate in the State Championship and still wish to participate are given this opportunity to participate. However, the Selection Committee headed by Shri Girish Lotlikar, have shortlisted players for the State Team to represent Goa at the Nationals as well as the National Games.
MEN: Kirk Duarte, Dekence Gavali, Vassily Mascarenhas, Aaron Gabriel, Jimmy Fernandes, Flobert Monteiro, Abraham Menezes, Daniel Vaz, Mahir Salah, Shivkumar Vandgoti, Sidney Missier, Bharat Patil, Brian Colaco and Stefan D'Souza.
WOMEN: Saachi Nathan, Rachel Raposa, Claudia Gomes, Jessida Fernandes, Melvie Mendes, Charmaine Fernandes, Kulsum Shaikh, Uma Gokhale, Jenitta J, Arundhati Falari, Beniza Fernandes and Claudia Crizzle.
The Camp will begin from 14th December onwards daily for Women (4.30pm to 6.00pm) and Men (6.00pm to 7.30pm). Kindly report in full kit at the Don Bosco Oratory indoor court on time. For queries and details mail to