State Under 19 Basketball Team Probables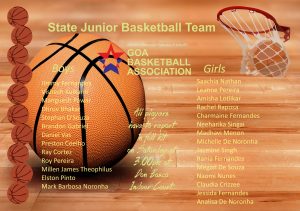 Following the State Basketball Championship and the open trials, the Goa Basketball Association's Selection Committee Chairman has released the following list of probables.
Boys: Jimmy Fernandes, Vishesh Kulkarni, Manguesh Pawar, Dhruv Bhakar, Stephan D'Souza, Brandon Gabriel, Daniel Vas, Preston Coelho, Ray Cortez, Roy Pereira, Millen James Theophilus, Elston Pinto, Mark Barbosa Noronha.
Girls: Saachia Nathan, Leanne Pereira, Amisha Lotlikar, Rachel Raposa, Charmaine Fernandes, Neeharika Singai, Madhavi Menon, Michelle De Noronha, Jasmine Singh, Rania Fernandes, Megan De Souza, Naomi Nunes, Claudia Crizzee, Jessida Fernandes, Analisa De Noronha.
All players have to report in full kit on Saturday at 3.00pm at Don Bosco Indoor Court.
From the above 15 Names only 12 will represent Goa at the 67th Junior Basketball National Championship to be held in Puducherry, from the 1st to the 8th of May 2016.