24th Aliens Basketball Championship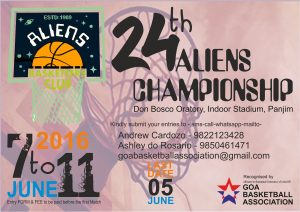 Aliens Basketeers, Panjim will organise the 24th edition of their All-Goa basketball tournament for senior men and women from June 7-11, 2016.
The tournament will be played under floodlights at the Fr Benedict Furtado Memorial stadium at Don Bosco's Panjim.
Only teams registered with Goa Basketball Association are eligible to participate and will have to formally confirm their entries with either the President of Aliens Basketeers Mr Andrew Cardozo (9822123428) or the Secretary Mr Ashley do Rosario (9850461471) or the President of Goa Basketball Association Fr Ralin de Souza at the Don Bosco Oratory, Panjim.
Teams are informed that formalities pertaining to transfer of players, if any, have to be completed with the GBA at least 48 hours before the commencement of the tournament.
Rules and protocol for transfer of players and all other related technicalities of the game are available on the website, www.gbaonline.in. Last date for submitting the entries is 5th June 2016, 5pm