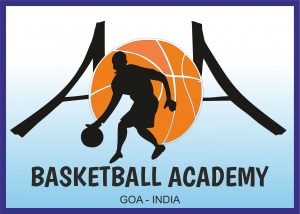 This is finally an initiative of the dedicated Basketball cagers from Goa, who after much thought decided to garner support in house and start its own academy. AOA Basketball Academy, cleverly used acronym for ACCURACY – PERFORMANCE – AGILITY is started with the focus of teaching the basics in a systematic manner to the different corners of Goa. As the first coaching begins on 13th of June 2016, the academy is planning to make positive plans to launch atleast in 3 new centres both in the North and South of Goa by the beginning of October.
The Coaching will be held twice a week for both beginners and advanced players. Each day the coaching will be held with 2 age categories (6 to 10 yrs and 11 to 16 yrs). Those who have a decent grasp of the game can join the advanced batches on Friday and Saturday. The organisers will strive to ensure that every session is well planned and all head coaches will be Certified FIBA trained Coaches. This will ensure the basics be taught in a systematic manner. The players will be constantly evaluated and a progress chart will help trace the progress of the children.
Though still at the nascent stage, the AOA ACADEMY plans are almost finalised of having on board atleast 2 Arjuna Awardees in Basketball, who will interact and teach the players at regular intervals. The Hall mark of the training will ofcourse be DISCIPLINE, and a development of a constant rigour of personal growth and development.
At present, the brains behind the venture are: Mr. Olencio Dias, Mr. Andrew Cardozo, Mr. Ashley Do Rosario assisted by Fr. Ralin De Souza. The team is grateful to Mr. Pete Wences Fernandes (student of Sports Management, Australia) for the detailed planning, organisation and the conceptualizing of the Academy.
For now all you need to know is to register yourself, tell your friend or admit your child to the Basketball Training that will help put in place a rigour of forming yourself into a good Basketball Player. If you want to act fast contact the following:
BONITA (DBO OFFICE – 7798429744), ASHLEY (9850461471), OLENCIO DIAS (9422018850), ANDREW (9822123428) … or mail us at aoabasketball@gmail.com.