Don Bosco Basketeers Fatorda triumph
XXIV ALIENS B'BALL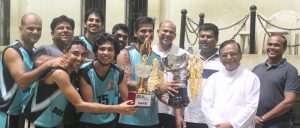 Don Bosco Basketeers, Fatorda, clinched the title of the 24th Aliens Basketeers Basketball Championship, defeating YMCA Knights by a solitary point, 60-59.
Infinite Margao, won the women's title with a facile 39-19 win over DBO 'A', Panjim.
In a humdinger final, Don Bosco Basketeers managed to dominate the final through all the four quarters but slipped up a bit in the final one letting a lead of 12 points just fritter away in a matter of two minutes of laxity. However, the buzzer went off to end the match and DB Basketeers emerged victorious by just a single point with the score-line reading 60-59 and the YMCA Knights' late charge falling short by a whisker.
Dailey Fernandes stood out in the match notching up an individual tally of 24 points, three of which came from a stunning, buzzer beating basket in the third quarter from well within his own half of the court. Nigel Fernandes (18 points) gave him good support while Charles D'Souza (23 points) and Felipe Alvares (18 points) did well to close in the gap, especially in the final stages of the match, and bring YMCA Knights within sights of victory but it was not to be.
In the women's final, Rachel Raposa and Franzila Rodrigues (12 points apiece) put the match beyond the reach of their opponents DBO 'A' Panjim, for whom Charmaine Fernandes contributed six points.
Fr Loddy Pires, sdb, and director of the Shrine at Don Bosco Panjim, was the chief guest and presented the prizes to the winners and runners-up in the men's section. Principal of Don Bosco High School, Panjim, Fr Avin Carvalho, presented the best men's player prize to Daile Fernandes and best women's player to Rachel Raposa.
Savio D'Souza, Superintendent of Customs, Mumbai, and GBA President Fr Ralin de Souza, presented the prizes to the women's winners and runners-up.