3rd All Goa Men's Basketball on 4th April 2016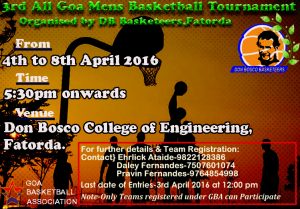 Don Bosco Basketeers, Fatorda will be organizing their 3rd All Goa Men's Basketball Tournament from the 4th to 8th April 2016 at the Don Bosco College of Engineering , outdoor Basketball Court. All the matches are scheduled to begin after 5.30pm.
Teams registered with Goa Basketball Association can participate. Those who wish to confirm their participation need message or call Ehrlick Ataide (9822128386), Daley Fernandes ( 7507601074) or Pravin Fernandes ( 9764854998). Last date to submit your entries is 3rd of April 2016 by 12.00pm.
Those teams that still need to complete their Player transfer or registration procedures can do so by sending your details to goabasketballassociation@gmail.com or contacting the GBA office. The PlayerRegistration and TeamRegistration Forms can be downloaded here or in the Download Section under GBA Official forms.