Defending champions ONGC, Dehradun retain their crown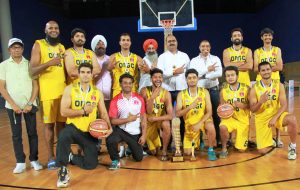 Old foes ONGC, Dehradun and Indian Overseas Bank, Chennai (IOB) met once again in a final at the national stage. The two best club teams in India have been sharing honours for the past several years and know each other's style of play pretty well. Defending champions ONGC have won the last three Federation Cups and were looking to make it four in a row this year.
ONGC got off to the best possible start they could hope for, coming out all guns blazing after tip-off. Internationals Yadwinder Singh and Vishesh Bhrighunvashi provided the early scoring. The India captain was especially fired up, aggressively driving to the basket in transition and somehow finding a way to finish. ONGC's 20-0 start stunned IOB, who were struggling to get their offense going in the first quarter. Pratham Singh was the only player able to penetrate and finish, scoring all of his team's 6 first quarter points. Down 27-6 entering the second quarter, IOB quietened ONGC by going on a scoring run of their own, led by Pratham Singh and forward Aravind Annadurai. Pratham found his touch from long range in the second quarter, knocking down a couple of triples, while Aravind operating in the paint for his buckets. IOB shut down ONGC's scoring in the defensive end as well, restricting ONGC to only 4 points in the second quarter.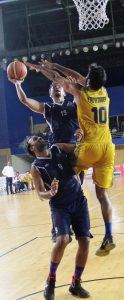 With IOB down by only 5 points at halftime, the game was in the balance. The veterans played their part for IOB in the third quarter, keeping them in the contest. Guard Hareesh Koroth came alive knocking down a tough double-pump jumper, followed by a big triple. Senior forward Mihir Pandey (10 points) showed his dexterity in the low post scoring a couple of baskets to cut ONGC's lead. IOB went on a mini-run with Pratham getting to the basket a couple of times on and-1 finishes to give IOB their first lead of the game. But ONGC matched IOB's scoring in the third quarter, led by Vishesh's strong drives to the basket. Point guard Riyazuddin hit a timely 3-pointer, while Yadwinder Singh's aggression in the post yielded success.
In the final period, with IOB down by 4 points, IOB's big men Mihir Pandey and Aravind Annadurai played the low post-high post game, with Aravind (13 points) finishing off nice feeds from Mihir. Pratham Singh was emphatic in his penetration and drawing fouls, but his outside shooting was off the mark, which deeply hurt IOB. For ONGC, Vishesh kept pushing the tempo in transition, using his athleticism to finish strong. Yadwinder's play in the fourth quarter proved to be the X-factor today, as he knocked down surprising deep jumpers. ONGC pulled away to establish a 10-point lead with under 5 minutes of play left. IOB's offensive troubles continued in the final minutes, as they were forced into taking tough deep jumpers. Trideep Rai had a late 3 pointer and Riyazuddins two late transition buckets sealed the deal for ONGC as they blew the game wide open and registered a 73-57 victory. ONGC kept up their dominance in the Federation Cup, winning the tournament for a record 4 times in a row.