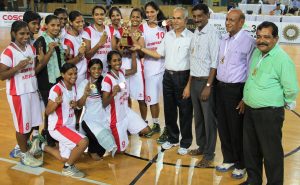 In the women's final, runners up from the senior nationals, Kerala squared off against Chhattisgarh. The teams are facing each other for the second time in this tournament. After a blowout loss in the league stages, Chhattisgarh were keen to exact revenge today.
The game was a battle of contrasting styles of play. Kerala got off to a quick start with forward Jeena Scaria knocking down mid-range jumpers in transition. Guard Neenumol found her touch from outside the 3-point arc, draining three long-range jumpers in the first quarter. Chhattisgarh's 6 foot 9 inch centre Poonam Chaturvedi struggled in the early going with Kerala putting multiple bodies on her and denying her the ball. Kerala centre Stephy Nixon ensured that Poonam did not get into easy post position, pushing her away from her comfort zone. Kerala also played tight man-to-man defense on Chhattisgarh's guards, hounding their passers and putting extra pressure on the lobs to Poonam inside.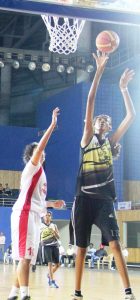 On the offensive end, Stephy came out to play, putting her post skills on show. Poonam was too slow to match Stephy's array of moves in the post. But Chhattisgarh never managed to fall far behind Kerala. Despite the pressure on Poonam, she did manage to put up 17 points in the first half. Saranjeet Kaur was the only Chhattisgarh guard who managed to effectively penetrate into the paint and finish at the bucket. At halftime, Chhattisgarh were only down by two points 43 to 41.
Stephy continued to be on fire in the second half. She managed to establish deep post position on multiple occasions, catching the ball inside and knocking down close jumpers. Neenumol also hurt Chhattisgarh with her timely 3-pointers adding to Kerala's small lead. Kerala showed excellent ball movement on offense, with almost all five players touching the ball on each possession. Jeena (22 points) and Stephy (26 points) shot 50% from the field with all their shots coming from inside the 3-point arc.
The offensive woes continued for Chhattisgarh's guards who had problems penetrating against Kerala's tight defense. With Poonam always being double-teamed, it was up to the rest of the Chhattisgarh squad to score the points. But only Saranjeet Kaur (21 points) had enough control over the ball to find her way to the bucket. Unfortunately for Chhattisgarh, apart from Poonam and Saranjeet, there was very little offensive contribution for the rest of the team. They were unable to create many second chance opportunities against the bigger Kerala lineup either, who secured their defensive glass well. Kerala enjoyed the rebounding advantage on the offensive end as well, pulling down 19 offensive rebounds (compared to Chhatisgarh's 5), leading to 18 second chance points. Anjana PG and Rojamol provided the hustle elements to the Kerala team, grabbing 4 offensive rebounds each and playing tight defense.
Entering the fourth quarter, Kerala held a 9-point lead. But in the first five minutes of the fourth, Chhattisgarh fought back led by Poonam's scoring. Riya Verma knocked down a crucial triple for Chhattisgarh with around five minutes left in the game to cut Kerala's lead down to 4. That was the closest they got to Kerala though. Kerala sustained their scoring in the final minutes, while shutting down Chhattisgarh on the defensive end. Jeena's mid-range jumper in the dying minutes was the final nail in the coffin for Chhattisgarh who succumbed to a 80-71 loss. The powerhouse Kerala side went one better than the senior nationals to clinch gold in the Federation Cup 2016