Semifinals lineup set- SECR v. Chhattisgarh, Kerala v. Telangana; IOB v. Vijaya Bank, ONGC v. Army Red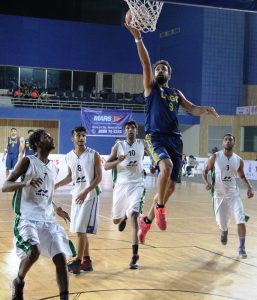 Bambolim, 12th March 2016: The last day of league match action from the 30th Federation Cup 2016 concluded today. The semifinals line up is now set. In the women's section it will be SECR v. Chhattisgarh and Kerala v. Telangana; while in men IOB will take on Vijaya Bank, while ONGC will battle Army Red.
Army was the bigger sized team, which was clear from their offensive plan. Army ran almost their entire offense through their post players. Army forward Ramesh Kumar put his post moves on display, overpowering the NWR frontcourt and notching up 20 points and 17 rebounds. NWR managed to stay within striking distance of Army, trailing only by 5 points at halftime. Guard Prashant Singh who found his touch from 3-point range, draining 5 triples and scoring a team-high 27 points, led NWR's scoring. But he had little support from his teammates, with only Jainesh Patel being the other player in double-digits for NWR with 13 points. Army came out on fire in the second half, outscoring NWR 24 to 13 in the third quarter. Muscular forward Jairam Jat also had a good game in the paint for the Army with 18 points and 11 rebounds. Army scored 48 of their team's total points in the paint compared to only 14 paint points for NWR. Army maintained their lead from the third quarter through the last period and closed out on a 68-50 victory. They will now face ONGC, Dehradun tomorrow in the semifinals.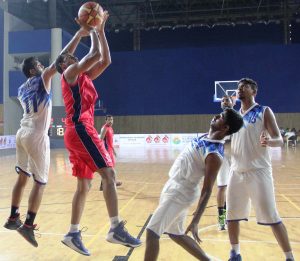 Later in the afternoon, Vijaya Bank, Bengaluru also sealed a spot in the semifinals with a lopsided victory against Ludhiana Basketball Academy (LBA). After their starters established a huge 30-6 lead at the end of the first quarter, Vijaya Bank were on auto-pilot for the rest of the game ending up with a 72-43 win. Guard Anil Kumar (19 points) and international forward Arvind Arumugam (10 points) did their work in the first half for Vijaya Bank. Their bench carried them through the rest of the game led by Karthickeyan's 13 points. LBA relied on too many isolation plays and lacked ball movement, forcing them into taking tough shots. Arshpreet Bhullar was the only double-digit scorer for LBA with 18 points. LBA have finished the tournament having lost all three of their games, while Vijaya Bank have advanced to face IOB, Chennai in the semifinals tomorrow.
The last league stage game was a Group A clash between group toppers ONGC, Dehradun and the knocked-out Bhiwani Club, Haryana side. Despite the match having no impact on the standings, both teams came out hungry for a win to finish the group stages on a high note. ONGC started the game slow but switched to higher gear second quarter onwards. Bhiwani Club had an already shortened roster with the disqualification of the Air Force players earlier in the tournament. Playing almost the entire game with only their starters, Bhiwani Club struggled to get their offensive flow going shooting only 25% from the field in the entire game. ONGC forced 16 turnovers that led to 14 points in transition. India captain Vishesh Bhrighuvanshi (26 points) once again stamped his class on the game with his crafty drive-ins, finishing at the bucket with ease. International forward Yadwinder had a double-double for ONGC with 13 points and 16 rebounds, while shooting guard Trideep contributed with 11 points. ONGC led 45-27 at halftime and faced no challenges from Bhiwani Club from the second half, coasting to a 72-55 win. Ajay was the top scorer for Bhiwani in the loss with 24 points and 12 rebounds.
Morning session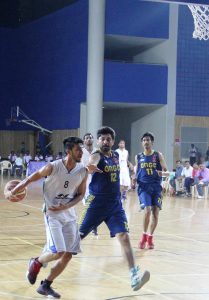 The last day of the league stages at the 30th Federation Cup 2016 began with Kerala and Maharashtra women facing each other in their last league game. Kerala have all but qualified for the semifinals, while Maharashtra needed a huge win against favourites Kerala to stand a chance of advancing.
But all hopes that Maharashtra had were dampened right from the first quarter with Kerala racing away to a 24-10 lead after 10 minutes of the game. Kerala's best player and go-to scorer Jeena PS got to the basket with ease sauntering her way to 26 points to go with 10 rebounds. Kerala centre Stephy Nixon also had a good outing with 14 points operating in the paint for her buckets. Guards Rojamol (15 points) and Anjana (9 points and 5 assists) also contributed ensuring that Kerala maintained at least a 15-point lead for the rest of the game. For Maharashtra, Manisha Dange (21 points) and Shruthi Menon (20 points) were the major scorers, but it was not enough against the heavyweight Kerala side. There was little bench contribution for Maharashtra, while Kerala displayed their deep bench strength with 23 points coming from their reserves. The game ended 81-63 in favour of Kerala, who have now sealed a spot in the semifinals where they will face the Telangana women.
Karnataka and Delhi faced each other later in an inconsequential match with both teams knocked out of contention for the semifinals. In a battle for pride, the young Delhi team surprised Karnataka coming out aggressive in the first half. Sahiba and Princy were leading the way for Delhi who built a 45-31 lead in the first half. Delhi's Sahiba put up big numbers with 20 points and 19 rebounds. But in the third quarter, Karnataka took over the game, outscoring Delhi 19 to 5. Karnataka's Kavana also had a double-double with 25 points and 12 rebounds along with 5 steals. Her teammate Ranjitha put up an efficient 20 points off 8 of 13 shooting. With the scores tied at 50 apiece at the end of the third quarter, Karnataka carried their momentum into the fourth quarter to outscore Delhi by 11 points, winning the game 74-63.
The first men's game of the day saw home team Don Bosco Oratory, Goa (DBO) losing their fourth and final game of the tournament against the mighty Indian Overseas Bank, Chennai team. Goa was outplayed in all departments against IOB who proved to be too big, too strong and overall, too good for DBO. After a 23-6 first quarter, IOB emptied their bench for the rest of the game, strolling to a 63-38 victory. Forward Arvind Annadurai led IOB with 14 points and 10 rebounds, while veteran forward Mihir Pandey had 12 points.
SEMIFINAL LINEUP
Women:
Kerala v. Telangana
South-east Central Railways, Bilaspur v. Chhattisgarh
Men:
ONGC, Dehradun v. Army Red
Indian Overseas Bank, Chennai v. Vijaya Bank, Bengaluru
RESULTS FROM DAY 4
Women:
Group A:
Kerala (Jeena PS 26pts 10rbs, Rojamol G 15, Stephy Nixon 14) bt Maharashtra (Manisha Dange 21, Shruthi Menon 20, Sangeeta Mandal 14) 81-63 (24-10, 15-13, 26-20, 16-20)
Group B:
Karnataka (Kavana CR 25pts 12 rbs, Ranjitha 20, Priyanka P 11pts 12 rbs) bt Delhi (Sahiba 20pts 19rbs, Princy 15, Monika Vats 12) 74-63 (10-14, 21-31, 19-5, 24-13)
Men:
Group A:
Vijaya Bank, Bengaluru (Anil Kumar BK 19, Karthickeyan S 13, Arvind Arumugam 10) bt Ludhiana Basketball Academy (Arshpreet Singh Bhullar 18, Dilpreet Singh 8, Anmol Singh 8) 72-43 (30-6, 17-11, 7-15, 18-11)
ONGC, Dehradun (Vishesh Bhrighuvanshi 26, Yadwinder Singh 13pts 16rbs, Trideep Rai 11) bt Bhiwani Club, Haryana (Ajay A 24pts 12rbs, Pardeep P 13pts 20 rbs, Himanshu Sharma 10) 72-55 (25-18, 20-9, 15-11, 12-17)
Group B:
Indian Overseas Bank, Chennai (Aravind Annadurai 14, Mihir Pandey 12, Satheesh K 11) bt Don Bosco Oratory, Goa (Dillano Marchon 9, Shawn Soares 7, Aakash Madgavkar 6)63-38 (23-6, 15-4, 8-14, 17-14)
Army Red (Ramesh K 20, Jairam Jat 18, Mayur Bhat 9) bt North-western Railways, Jaipur (Prashant Singh 27, Jainesh P 13) 68-50 (15-13, 15-12, 24-13, 14-12)