Kerala women to face Telangana in semifinals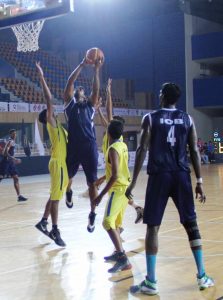 Bambolim, 12th March 2016: The last day of the league stages at the 30th Federation Cup 2016 began with Kerala and Maharashtra women facing each other in their last league game. Kerala have all but qualified for the semifinals, while Maharashtra needed a huge win against favourites Kerala to stand a chance of advancing.
But all hopes that Maharashtra had were dampened right from the first quarter with Kerala racing away to a 24-10 lead after 10 minutes of the game. Kerala's best player and go-to scorer Jeena PS got to the basket with ease sauntering her way to 26 points to go with 10 rebounds. Kerala centre Stephy Nixon also had a good outing with 14 points operating in the paint for her buckets. Guards Rojamol (15 points) and Anjana (9 points and 5 assists) also contributed ensuring that Kerala maintained at least a 15-point lead for the rest of the game. For Maharashtra, Manisha Dange (21 points) and Shruthi Menon (20 points) were the major scorers, but it was not enough against the heavyweight Kerala side. There was little bench contribution for Maharashtra, while Kerala displayed their deep bench strength with 23 points coming from their reserves. The game ended 81-63 in favour of Kerala, who have now sealed a spot in the semifinals where they will face the Telangana women.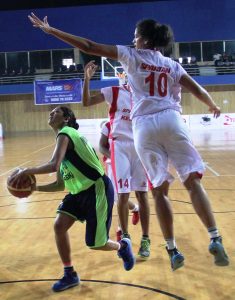 Karnataka and Delhi faced each other later in an inconsequential match with both teams knocked out of contention for the semifinals. In a battle for pride, the young Delhi team surprised Karnataka coming out aggressive in the first half. Sahiba and Princy were leading the way for Delhi who built a 45-31 lead in the first half. Delhi's Sahiba put up big numbers with 20 points and 19 rebounds. But in the third quarter, Karnataka took over the game, outscoring Delhi 19 to 5. Karnataka's Kavana also had a double-double with 25 points and 12 rebounds along with 5 steals. Her teammate Ranjitha put up an efficient 20 points off 8 of 13 shooting. With the scores tied at 50 apiece at the end of the third quarter, Karnataka carried their momentum into the fourth quarter to outscore Delhi by 11 points, winning the game 74-63.
The first men's game of the day saw home team Don Bosco Oratory, Goa (DBO) losing their fourth and final game of the tournament against the mighty Indian Overseas Bank, Chennai team. Goa was outplayed in all departments against IOB who proved to be too big, too strong and overall, too good for DBO. After a 23-6 first quarter, IOB emptied their bench for the rest of the game, strolling to a 63-38 victory. Forward Arvind Annadurai led IOB with 14 points and 10 rebounds, while veteran forward Mihir Pandey had 12 points.
RESULTS FROM DAY 4 (upto 2.00 pm)
Women:
Group A:
Kerala (Jeena PS 26pts 10rbs, Rojamol G 15, Stephy Nixon 14) bt Maharashtra (Manisha Dange 21, Shruthi Menon 20, Sangeeta Mandal 14) 81-63 (24-10, 15-13, 26-20, 16-20)
Group B:
Karnataka (Kavana CR 25pts 12 rbs, Ranjitha 20, Priyanka P 11pts 12 rbs) bt Delhi (Sahiba 20pts 19rbs, Princy 15, Monika Vats 12) 74-63 (10-14, 21-31, 19-5, 24-13)
Men:
Group B:
Indian Overseas Bank, Chennai (Arvind Annadurai 14, Mihir Pandey 12, Satheesh K 11) bt Don Bosco Oratory, Goa (Dillano Marchon 9, Shawn Soares 7, Aakash Madgavkar 6)63-38 (23-6, 15-4, 8-14, 17-14)