ALIENS Under-14 State Championship 2019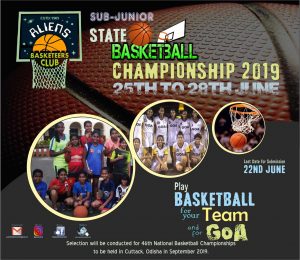 The Aliens Under-14 State Championship will be held at DBO Panjim from the 25th to 28th June 2019 to select the probables for the 46th SubJunior National Basketball championship to be held in Cuttack, Odisha later in September 2019.
All School, Clubs and institutions are invited to participate. Those born on or after 01.01.2006 are eligible to participate. The Alien's have organised Basketball events for the last two decades without a break and in the last few years have organised the youth and sub-junior championships in a bid to promote grassroot basketball.
While all basketball promoting schools have already sent the entry form and other details, all those wishing to participate or register can mail to goabasketballassociation@gmail.com or download the form from www.goabasketball.com. Last date to submit your entries is 22nd June 2019. For details contact Andrew Cardozo (9822123428) or Ashley do Rosario (9850461471).
You can download the REGISTRATION FORM HERE