Lourdes & Sharada Dashing Damsels are Sub-Junior Basketball Champs
Lourdes & Sharada Dashing Damsels are Sub-Junior Basketball Champs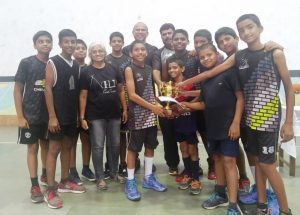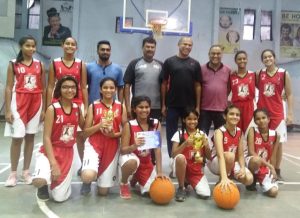 Lourdes Convent, Saligao boys and Sharada Dashing Damsels, Panjim emerged champions at the Aliens Sub-Junior Basketball Championship that concluded on 28 June, at DBO Panjim.
In the boys finals Lourdes Convent, literally came up from behind to take the title only to take the lead after half time. Micah Pinto (9pts) clicked his charm in the third quarter scoring three straight baskets and taking the lead Lourdes. Zeon Zacharia (6) and Xylyx Dias (6) chipped in to add on to the attack and keep the lead till the end. Miran Khan (10) and Lemuel F (4) where the game makers for St. Britto's.
In the one sided girls finals, Sharada Dashing Damsels set themselves so firmly that the girls of Our Lady of the Rosaery, Dona Paula, did not have much to respond. Tia Chodankar (12) and Megan Pereira (8) dominated for SDD while Sarah Hussain (5) and Nicole Noronha (6) kept the fight for Rosary's.
Photos
Sub-Junior BOYS: The winning Lourdes Convent Boys Team with the officials.
Sub-Junior GIRLS: The winning Sharada Dashing Damsels Girls team with the officials.