Basketball Selection Trials for Juniors and Sub-Juniors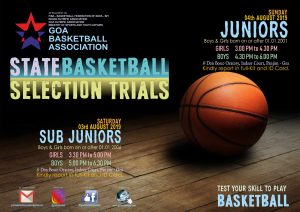 The Goa Basketball Association will be conducting the Selection trials for Juniors and Sub-Juniors this weekend to give an opportunity to all the cagers who could not be part of the State Championships in their respective categories.
The Sub-Junior Selection trials for girls will be held at 3.00PM to 4.30PM and boys from 4.30PM to 6.00PM on Saturday, 3rd August, 2019. All those born on or after 01.01.2006 are eligible to participate.
The Junior Selection trials is held for all those born on or after 01.01.2001. The Junior Women's trials will begin at 3.30 PM to 5.00PM and Junior Men will be held at 5.00PM to 6.30PM on Sunday 4th, August 2019.
The Trials will be held at Don Bosco Oratory Indoor Basketball Court. Those interested are expected to report in full kit, along with a proof of Identity.
The National championships will be held in Odisha (Sub-Juniors) and Patna, Bihar (Juniors) in the months of September and October, respectively.