STATE Junior Basketball Championship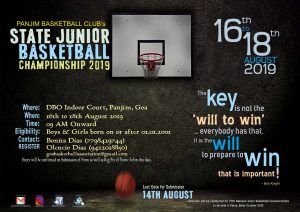 Panjim Basketball Club announces STATE Junior Basketball Championship
Panjim Basketball Club under the aegis of Goa Basketball Association will be organising its annual STATE JUNIOR Basketball Championship for Men and Women from the 16th to 18th August 2019, at the Don Bosco Oratory indoor Basketball Court. All those born on or after 01.01.2001 are eligible to participate.
The selection committee headed by Shri Girish Lotlikar will be selecting the probables to represent the state at the 70th Junior National Basketball Championship to be held from 17 to 24th October 2019 at Patna, Bihar.
All Schools, Higher Secondaries, Clubs and institutes are requested to submit and confirm their entries by 14th August 2019. Matches will be held from 9.00AM onwards. Further details are available of the official website: goabasketballassociation@gmail.com.
The entry forms for the Championship can be downloaded here below:
ENTRY FORM in JPG format
ENTRY FORM in PDF format