SUB JUNIOR PROBABLES ANNOUNCED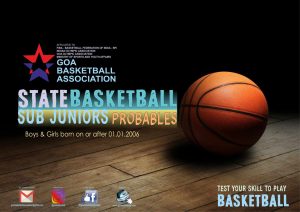 Goa State Basketball Probables Announced
The Goa Basketball Association after the State Championship and Selections trial recently held have announced the first list of probables to attend the state camp to begin from today, August 11, 2019.
The names also released on the official website are as follows:
BOYS: Tanay Saldanha, Joshua Pinheiro, Samuel Costa, Nathan D'Silva, Steve Barreto, Micah Pinto, Zeon Zacharia, Xylyx Dias, Sidney Dias, Lamuel Fernandes, Krishit Sakhalkar, Miran Khan, Aditya Naik, Adityan U Brijulan and Nathan De Abreu.
GIRLS: Athena Sousa, Diya A Waghela, Raksha Matkar, Rachel Fernandes, Aloysha F Pereira, Nidhi Raikar, Sarah Hussain, Zoe M Sequeira, Tamanna Warlikar, Megan D'Souza, Tia Chodankar, Sayali Naik, Saanj Sawant, Valeska Caiero, Philena Fernandes, Lysandra Rodrigues, Bedelia Pereira and Megan Pereira.
Those selected are expected to report to DBO Panjim at 3.00PM in full kit.