Hotshots and Lourdes Basketeers Club are Junior Basketball Champs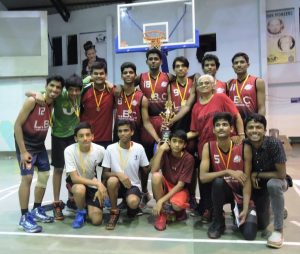 Hotshots (Panjim) and Lourdes Basketeers Club (Saligao) displayed their supremacy at the  State Junior Basketball Championship organised by Panjim Basketeers Club, at Don Bosco Oratory, Panjim on Sunday 18th September.
In the women's finals it was clearly Shimei Nathan (20) along with Naomi Nunes (13) that stole the show making it a one sided affair to the struggling Our Lady of the Rosary High School, Dona Paula. Hot shots defeated Rosary with a huge margin 41-7. Even at half time Shimei had either scored or assisted every basket, not allowing the Rosary girls to play their game. For the Rosary girls, Divya Joseph (4) and Sarah Hussain (3) contributed to their score.
In the closely fought men's final, Lourdes Basketball Club, Saligao clinched the title 50-43 by holding to their nerve in the crucial final moments of the game against Sonics, stealing the championship away for themselves. At the end of the first quarter, LBC was just a basket ahead, and the lead grew to 6pts at half time. Shubham Singh (24) was clearly in his elements piercing through the Sonics defence with ease and unsettling their moves. Daniel Godinho (5) and Jesurel Madapallil (10) chipped with a sudden fastbreaks that caught the Sonic cagers by surprise. For the Sonics, Calvin D'Mellow (24) played an equally swift game with the highest score, but did not get the support from his cagers to pull through. Selwyn Coelho (9) and Arihant Jain (5) held the point and the post, to restrain the attack.
While Naomi Nunes and Shubham Singh were adjudged the MVP of the Finals, Daniel Godinho and Shimei Nathan were awarded the MVP of the Championship. The Panjim Basketeers Club, awarded a special award for commitment to Daniel Vaz for his performance in Basketball. The dignitaries present were Mrs. Monica Dourado (Chief Guest), Shri Girish Lotlikar (GBA President), Shri. James Andrade (President, PBC), Shri Sumeet Tendulkar (Vice President, PBC), Sandeep Heble (Secretary, PBC) and Fr. Ralin De Souza (GBA Secretary).