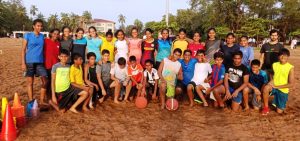 The Goa Basketball Association has declared the FINAL Names for the State Sub-Junior Basketball Team to represent Goa in Cuttack, Odisha. After over 21 days of camp with 16 players attending the camp, as is customary, the final 12 names of the teams were announced.
The teams are as follows:
GIRLS: Megan Pereira, Lysandra Rodrigues, Philana Fernandes, Valeska Caeiro, Saanj Sawant, Tia Chondankar, Meagan D'Souza, Tamanna Warlikar, Sarah Hussain, Nidhi Raikar, Raksha Matkar and Athena Souza.
BOYS: Zeon Zacharia, Micah Pinto, Steve Barreto, Nathan Da Silva, Samuel Costa, Tanay Saldanha, Xylyx Dias, Lemuel Fernandes, Krishit Sakhalkar, Miran Khan, Nathan De Abreu and Shanon Travasso.
The Team members are requested to report at 3.30PM in full kit for practice at DBO indoor Court, Panjim. The Parents meeting with Officials will be held on Friday, 30 August 2019 at 5.30PM.