BASKETBALL COACHES CLINIC
Thanks to 'SPORT for the World', the two Spanish coaches are going to conduct two short clinic to boost the coaching spirit of the Coaches in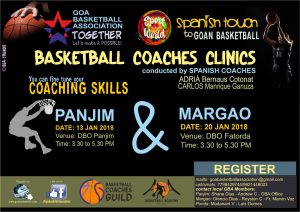 Goa. The North Goa camp will be held in Panaji, on 13th Jan – Saturday from 3.30 to 5.50pm at DBO, while the South Goa will be held on 20th Jan – Saturday at the same time in DBO Fatorda!
The clinic is done in association with AOA Basketball Academy as part of the training program for the PE Teachers and Basketball Coaches under the BCG – Basketball Coaches Guild program. We are all getting ready also for the Inter-School Basketball League that will be organised by the GBA with special preference given to the Schools that have adopted the training program for the schools children only! 16 Boys Schools and 12 Girl Schools will be part of the league that will run for two months from APRIL 2018.
The invitation is also open to aspiring basketball coaches who wish to sincerely assist in developing the sport of Basketball in the state and work towards being part of a definitive basketball Coaching Education Program.
Those who are interested in learning new tips in coaching, this is your chance.