BASKETBALL Orientation TRAINING
BASKETBALL ORIENTATION TRAINING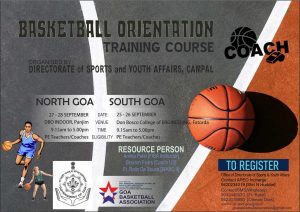 Goa Basketball Association in its series of programs to develop basketball at the Grass roots, has made a conscious attempt to focus on Basketball development at a very young age. The initial habits of sport and physical movements are formed at an early age. Hence, along with the 'Directorate of Sports and Youth Affairs' GBA will be organizing an Orientation Course in "BASKETBALL" for Physical Education Teachers from Government and Non Government Secondary and Higher Secondary Schools in the State. Goa Basketball Association is proud to collaborate in this venture to train and qualify the PE Teachers of Schools in Goa. The program will be conducted as follows:
| | | |
| --- | --- | --- |
| 25th & 26th September | SOUTH GOA | Don Bosco College of Engineering, Fatorda |
| 27th & 28th September | NORTH GOA | Don Bosco Oratory, Panjim, Goa |
The workshop will be conducted from 9.15 am to 5.00 pm and will focus on skill training for Teachers. It is our primary duty to imbibe and impart the skills of sport professionally so that the children under our care can grow in dedication and discipline.
The Circular from the department dated 19.August.2019 was already sent to the schools in mid-August in a bid to train and equip the PE Teachers to orient themselves with proper skills for coaching. The Training will be conducted by Smt. Arnika Patil [FIBA Instructor] from Pune, along with Coach Braxton Fears, and Fr. Ralin De Souza (WABC II). There will be a strong demonstration of practical skills and ways in which basketball can be made fun and exciting for the children at a young age.
Kindly confirm your participation in the Office of the Directorate of Sports of the APEO Incharge Shri. N. Huddar [9420234019] of mail us at goabasketballassociation@gmail.com.
Download the DSYA Circular Here.
Download the Letter to Schools and Headmasters here.
Download the Letter to PE Teachers here.