DSYA and GBA organises Basketball Orientation Program for PE Teachers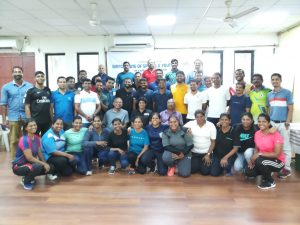 DSYA and GBA organises Basketball Orientation Program for PE Teachers
Around 80 Physical Education Teachers from various schools in the North and South Goa, attended a two day Basketball Orientation program organized by the Directorate of Sports and Youth Affairs, along with Goa Basketball Association, at Fatorda and Panjim respectively.
In a bid to develop the sport at the Grass root level, the resource persons, Mrs Arnika Patil, the only FIBA Instructor from India, and former Indian Women's team captain (18 years) led the training program along with Fr Ralin De Souza (WABC II) which was practical and at the same time had a lot of technical information. The PE Teachers appreciated the efforts and mode of the training that involved first hand information of training skills along with development of basketball today. Coach Arnika was precise, interactive and knowledgeable and stressed on the primary importance of the Physical education Teachers in the development of sports in the life of the child. The drills, skills, games along with the information provided to the PE Teachers helped Improve the confidence of the PE Teachers and coaches.
The GBA was introduced to the PE Teachers the Grassroots curriculum launched for the schools in Goa, especially the under-12 category (std V-VII) which the PE teachers can easily introduce in the school. The PE Teachers appreciated the DSYA for this venture, which was involving, informative and constructive.