Under 12 Exhibition Match at Fatorda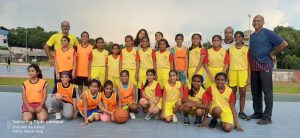 The AOA Basketball Academy along with GBA organised the first of the series of events in the under 12 category. The exhibition match was held on 02 October 2019 (Gandhi Jayanti) and will be held monthly. The match began at 5PM with cheering and excitement from the parents and children alike!
The two Basketball coaching centres of Fatima Convent along with the little basketball enthusiasts at the DBCE Oratory Centre, Fatorda, played the match despite the cloudy weather which was indeed an advantage rather than a deterrant. The initiate was proposed and organised to give the children an opportunity to play and have a match experience.
DBO Fatorda won the match 12-9, which was a two quarter game with Ms. Nidhi Raikar doing the bulk of the scoring for Fatorda, while for Fatima stars it was equally shared by Leann Pereira, Shauna Paras, Cheryl, and Zooni Shaikh.
A note of mention cannot be missed about the active participation of the parent present, who shared home made sandwiches and snacks along with a juice to everyone present.