STATE JUNIOR Basketball Teams Announced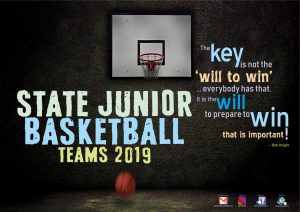 JUNIOR BASKETBALL TEAMS
The Goa Basketball Association has declared the final list of the Junior Basketball Teams to represent the Goa State at the 70th Junior Basketball Championships to be held at Patna, Bihar from the 17th to 24th October 2019. The following have been selected:
GIRLS: Shimei Nathan, Chrisann Noronha, Atika Suriya, Anushka Singhee, Ahlia Hussain, Kyra Sequeira, Asmita Khaunte, Nadia De Abreu, Mehak Banu, Mehraj Banu and Tanishka Prabhu.
BOYS: Bavish Bijoy, Blaine Machado, Shivam Kadam, Selwyn Coelho, Jesurel K Madappallil, Lowell Fernandes, Brett J Sequeira, Rahul Abel Prabhu, Aaryan Vineet Raut, Lokesh Yadav, Shubham Singh and Jeshua Pinto.
The above mentioned players are requested to report to the DBO Indoor court in full kit for practice and attend the meeting along with their parent/guardian/ward on 11th October 2019 at 6.00PM. Players are expected to submit their documents as requested at the earliest.