THANKS… THANKS… THANKS!!!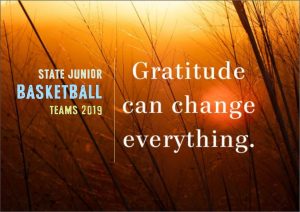 THANKS… THANKS… THANKS!!!
The EVENT
The Goa Basketball Association and the Junior Goa Basketball Teams will be immensely grateful for a DONOR and BENEFACTOR who has remained unnamed by made an indelible mark of his goodness on the players and their families.
The Goa Junior teams participated in the 70th Junior National Basketball Championships in Patna, Bihar from the 17th to 24th October 2019. Despite the testing times in Bihar, with unprecedented torrential rains, that left the city crippled with over four major areas of the city submerged with water, and destruction and epidemics that followed, the Bihar Basketball Association along with the support of the government put up quite an effort to conduct the Nationals. The Goa teams did what it best could. But what impressed us was the charity of a loving heart.
GENEROSITY
While the parents pulled in their finances to arrange for AC 3Tier tickets on our journey to Patna, and many could not afford to pay the same for the return, GBA made arrangements (as normally done) to purchase tickets by sleeper class for the return. One Good Samaritan, who wished to remain anonymous, noticing the situation, volunteered on his own to assist the Goa Basketball Teams in acquiring the return journey by  AC as well. So humbly, the person remained anonymous and did not even wish to be mentioned, stating that he 'is a sports enthusiast and wished the safety and comfort of the players of the sport!'
Indeed, this was a wonderful gesture and an expensive one as that. When the announcement was first made to the parents and players of the same, all were surprised, happy and filled with disbelief. Indeed, we are happy to be beneficiaries of the great act of kindness, and all were requested to whisper a special prayer for the person and his family! This the least we can do, as we thank God for such good generous person, that still remind us of the impact we can have on the lives of others by our very concern and gesture of support.
Really, all we can humbly say, to this wonderful person for his support is THANKS… THANKS… THANKS!!!