STATE BASKETALL CHAMPIONSHIP on 12.NOV.2019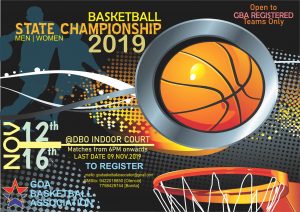 The State Basketball Championships 2019, will be held from the 12th to 16th November 2019, at the Don Bosco Oratory, Indoor basketball Court, Panjim. We intend to conduct all Matches from 5PM to 9PM for the benefit those staying far as well as the patrons who wish to watch the games.
The championship will also shortlist players for the 70th Senior National Basketball Championships to be held in Ludhiana from the 21st to 28th December 2019 as well as for the forthcoming 36th Nationals Games.
While only GBA registered Teams are allowed to participate, those unregistered who wish to participate can do so by sending an email to goabasketballassociation@gmail.com. All registration procedures are online. Registered players will be given a Registration ID Card as per records of GBA. Kindly confirm the Player Jersey Nos if not notified. This can be checked from the GBA website: www.goabasketball.com (under the section Clubs/Teams/Players).
Registration can be done by sms or email to GBA email ID on or before 10th November 2019.