BASKETBALL STATE CHAMPIONSHIP in Porvorim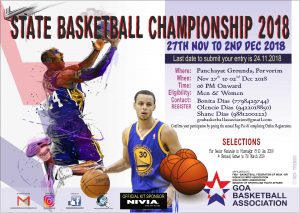 The Goa Basketball Association will be organising the State Basketball Championship 2018 from 27th November to 2nd December 2018 at the Panchayat Grounds, Porvorim. All matches will be held from 6.00pm onwards.
With the Basketball Federation of India (BFI) announcing its 69th National Basketball Championships from 5th to 12th January 2019, in Bhavnagar, Gujarat, the GBA selection committee headed by Shri Girish Lotlikar will be shortlisting players for the National Championship as well as the National Games to be held later in March end.
Only Clubs, Teams and Players registered with GBA are allowed to participate. Players only with an ID Card will be allowed to play for the Tournament. With the registration process online and all forms and formalities available online, teams are request to complete their registration process, one day before the start of the tournament. No registrations or transfer will be permitted during the championship.
Last day for registration is 24th November 2018. Teams that have officially requested for participation, by email/sms/whatsapp will be placed on the fixtures.
Fixtures of the State Championship Nov-Dec 2018