SUB-JUNIOR BASKETBALL PROBABLES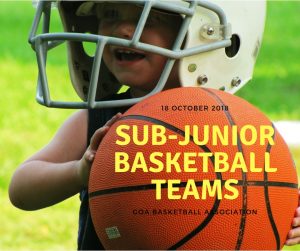 The Goa Basketball Association selection committee has announced its first list of probables for the Goa State Sub-Junior Basketball Teams to represent Goa at the 45th Sub Junior National Basketball Championships to be held in Kangra, Himachal Pradesh. They are:
GIRLS: Sejal Kudnekar, Sania Inamdar, Assuciana Fernandes, Rupali Patil, Saisha Sakhalkar, Saniya Oli, Nolma D'Souza, Youshica Sawant, Miselta Pires, Aachal Lotlikar, Ellery D'Silva, Lysandra Rodrigues, Alisha Ferrao, Valeska Caiero, Rizya Po, Mehraj Banu Syed, Ericka VaZ, Vanshika Jain, Athena Souza and Hiral Sidhu.
BOYS: Digamber Gawade, Micah Pinto, Jason Nathan, Ramesh Khadka, Shivam S Yadav, Amin M Shaikh, Sonu Mohatu, Maldini Pereira, David Pinheiro, Savio Carvalho, Jonah Sequeira, Vinay Kerkar, Saiesh Sopte, Leon Menezes, Saktan Kumar, Mangaldas Talaulekar, Adith Vinod and Tanay S Saldanha.
The first intensive camp will be held on 20th-21st Oct (Sat & Sun) where, the final 12+2 will be selected. Players are expected to report to the Outdoor Basketball Court, at Don Bosco Oratory, Panjim at 3.30PM.
The first two days will be conducted as follows:
20th October (Sat) – 3.30PM to 5.30 PM
21st October (Sun) – 9.00 AM to 11.00AM
The selections have been made after the first open trials held in May 2018 and later with the State Championship held in the state. For any queries or clarification, kindly mail to goabasketballassociation@gmail.com.