Coaching Program Day 03: Arnika in Goa
It was the third day at the Coaching Certification Program conduct by the Goa Basketball Association, with 26 coaches registering at the Program which runs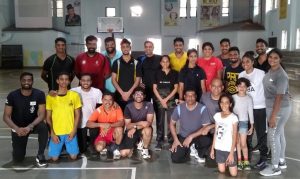 on five Sundays.  The course is conducted by Fr. Ralin De Souza (WABC Level 02), Mr. Michael Dias (WABC Level 01), Olencio Dias (Senior Goa Coach/Official) along with invited coaches.
On the third day, Mrs. Arnika Patel did a great task guiding the coaches to understand their roles and styles they need to adopt as coaches. In her simplicity yet firmness, she reasoned out with the coaches the need to focus on the child who comes to us for training and let go of all our other prejudices.
She then spent the whole morning making the coaches understand the different age categories and what needs to be focused at each of these stages. The countless creative ways basketball can be made fun and yet attain a long term goal of developing proper basics and habits in basketball.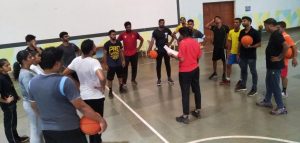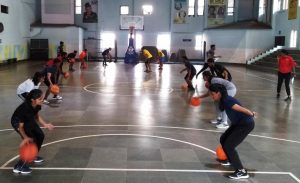 After a lunch moment together, the practical session on court dealt with the various kinds of drills and skills, that required coordination, balance, speed, etc. The Coaches themselves were involved in doing the exercises, so that it would enable them to teach better the children they have too deal with.
It was so wonderful to see a positive attitude with the coaches, working and interacting together. This encounter together itself is a wonderful opportunity to build the basketball fraternity and focus on proper training of the player for the future.