GOA YOUTH BASKETBALL TEAMS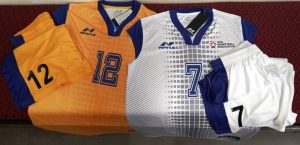 The Goa Youth Basketball Teams are getting set to dawn the colors for the Goa at the 35th National Youth Basketball Championships to be held in Udaipur, Rajasthan from the 30th September to 7th October 2018.
We are deeply grateful NIVIA SPORTS PVT. LTD. For supporting us with kits and basketballs. 'Nivia' has done a great job this year, which has been real boost to the Goa Basketball Association in promoting and developing the game of Basketball in Goa. After a selection trial process and a state championship held in mid August, there was a 23 day camp organised at the DBO indoor Basketball court. The Selection committee has finally decided the final Team that will wear the Goa colours.
GIRLS TEAM: Arantxa Rodrigues, Wallencia Cardozo, Kimeron Vas, Elaine D'Costa, Shimei Nathan, Shimron Nathan, Asmita Khaunte, Maegan D'Costa, Melma Dias, Angelica Gonsalves, Kyra Sequeira, and Elaine Gracias.
BOYS TEAM: Zachary Costa, Jeremiah Pereira, Clive Esperance, Alister Cardozo, Jonathan Gomes, Shivam Kadam, Selwyn Coelho, Shubam Singh, Sahil Desai, Siddhant Gosavi, Ian D'Souza and Daniel Godinho.