Braxton Fears' assists Goa Basketball Coaches

The recent initiative of the Goa Basketball Association to conduct a 5 weekend Basketball Coaches Certification program has an overwhelming response of 25 coaches from different parts of Goa. Sensing the need to train more coaches to the growing need of schools in Goa that have shown interest in adopting basketball, as one of the focus sports, the GBA organised this coaches certification program to equip the coaches with basic basketball training skills, so that the grass root training programs undertaken in various schools be given a firm foundation.
On 23rd September 2018, Sunday, GBA had a surprise gift in the person of Mr. Braxton Fears, a passionate Basketball Player/Coach, and presently residing in Goa, who volunteered to contribute his expertise and passion to the coaches at the program. After the theoretical input session by Fr. Ralin De Souza (WABC level 2) and Mr. Michael Dias (WABC level 01), Braxton made his point at the start of the practical session that 'footwork is a priority of Basketball Basics.' 'It is better to have a player with good footwork and less of a shooter, than a shooter with poor footwork skills' he said.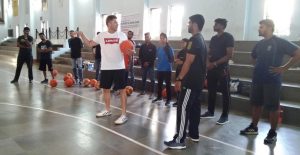 With a series of game-situation drills, Coach Braxton could break the ice with the coaches, constantly interacting with them and teaching how as coaches they need to focus on the fundamentals. This is just the start of a wonderful experience for the young Goan Basketball Coaches, who will soon embark in taking seriously the teaching of basketball in their respective schools.
GBA and Don Bosco Oratory, Panjim, wishes to thank Braxton Fears for igniting a spark in their lives and inspiring them to be better coaches. We are confident that this passionate gesture, will truly assist Basketball i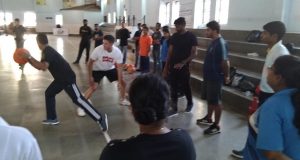 n Goa to take new strides.