BFI INTRODUCTION TO COACHING CERTIFICATION COURSE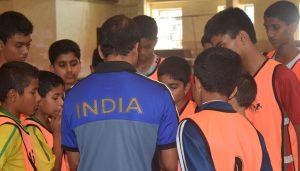 Goa Basketball Association is presently hosting the first ever 'BFI Introduction to Coaching Certification Course' attended by 23 coaches from the western region. This introductory course is organised by Basketball Federation of India and is of a 6-day duration from the 23rd to 28th of January 2017, at the Don Bosco Oratory, Panjim Goa. The introduction course will now be a compulsory requirement for all aspiring Basketball Coaches in India who will want to complete the three levels of the WABC Coaching Program.
The group includes 8 coaches from Maharashtra, 2 coaches from Gujarat, 1 coach from Karnataka and 12 Coaches from Goa. This is a major  boost to the grassroot training program of Goa that will have trained coaches under the FIBA-BFI Coaching Program. Ctoaches have been selected keeping in mind the different areas/talukas of Goa that have shown interest in the systematic development of the kids.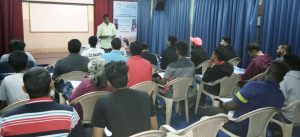 FIBA approved level 1 to 3 courses in India conducted in the last 4 years will now be revamped with the newly adopted Coaching program coordinated by WABC (World Association of Basketball Coaches). FIBA has upgraded its coaching program which will be followed uniformly all over the world. The WABC level 1 to 3 courses will be in effect from June this year.
With the formal base training and performance of regular coaching at their respective training centres, the coaches will be given the opportunity to appear for the WABC Level 1 Coaching Certificate.
The training is conducted by India Coach Sebastian PJ, who has already conducted the course with FIBA instructor Mr. Nelson Isley in other parts of the country.