Transfer Season 2017 Begins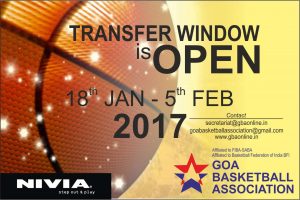 The Goa Basketball Association will begin its transfer window from 18th of January to 5th of February 2017. All registered Teams/clubs are requested to fill the necessary forms along with the letter of consent to the GBA office at Don Bosco Oratory, Panjim, Goa to acquire or transfer players already registered at GBA. Team Incharges (Presidents/Secretary/Coach) will be sent the list of players as per GBA records, which needs to be confirmed and submitted to the GBA office along with the annual Registration fee. New Player Membership cards will be issued for the '2017 Season'.
Transfers during the transfer period are done free of charge, with the regular procedure followed as prescribed in the transfer protocol given in the official website (www.gbaonline.in). Kindly contact secretariat@gbaonline.in for any clarifications issues or support.
Transfers will be in effect from 5th February 2017 till the next window. All teams and players are advised to complete their procedures on schedule.