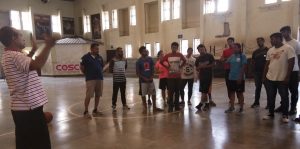 In a sincere attempt to widen and strengthen the officiating fraternity, the GBA organised its annual 'Introductory Referee Certificate Program'. The Program was conducted for two consecutive Sundays in April 2017 (2nd & 9th April) at the Don Bosco Oratory, Council Hall. Every registered Team/Club was given an official invite to be part of the program.
The workshop was conducted by Shri Olencio Dias, the only BFI A Panel Referee of the State, with FIBA training Videos and Floor movement skills. Each of the registered teams were requested to send atleast two representatives for the same.
It was encouraging to observe that while over 25 attended the workshop, 18 Members registered and answered the theory and practical examinations. Hence forth all those who have officially answered the basic exams will be considered for officiating at all games. As the performance improves, the GBA will send the candidates for the BFI Referees examination held at all the age category National events. The National Referee examination and Certification will go a long way in developing and improving the game at the grass-roots, observed the Shri Olencio Dias.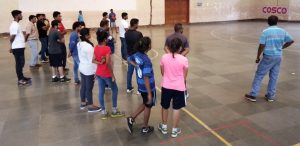 At the request of the participants who found the interaction very informative, it was recommended that these workshops be conducted once a month, and more and more members will be invited. If it is necessary, then the written and practical evaluations will be conducted. A certificate will be given only after the candidates officiate for any one event after the workshop.