Youth Selection Trials held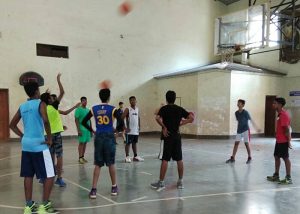 The State Youth Selection Trials were held in two phases (North and South Goa) on 25th and 28th April respectively. The South Selection trials were on held on 25th April at Loyola High School Court, Margao, while the North Selection trials were held in DBO, Panjim indoor Basketball court on the 28th of April.
Over 35 boys and 20 girls participated in the open selection trials, which were announced to select the State Youth Team to represent Goa at the 34th Youth National Basketball Championships for Boys and Girls in Hyderabad. All those born on or after 01.01.2001 were eligible to participate. Since, most schools are in vacation and little time thereafter to prepare the state teams, the GBA Selection committee decided to select a list of 20 probable players who will have to undergo a month long training camp in preparation for the Nationals. The State Championship will be held all the same in Mid June once the schools begin. Any deserving player from the tournament will be given an opportunity to be part of the team.
The final list of selected players will be declared in the first week of May 2017.