YMCA Dawn to Dusk Challenge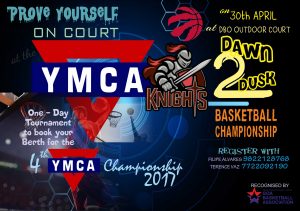 The YMCA Knights in its 4th Major Edition of the Basketball Championship will begin the tournament on the 1st of May 2017 with 7 Men and 2 Women outstation teams. Hence, to give an opportunity to any deserving team, a Dawn-to-Dusk open Challenge tournament will be held on 30th April 2017 at the Don Bosco Oratory indoor court from 9am to 9pm. The top 2 finalists will get a chance to be part of the 4th Major YMCA Knights Championship with outstation teams.
The local teams besides proving themselves in the one day championship will be invited by YMCA Knights to be part of the championship on merit of their performance.
For details and queries kindly contact: Filipe Alvares: 9822128768 and Terence Vaz: 7722092190
The fixtures of the Tournament can be downloaded here: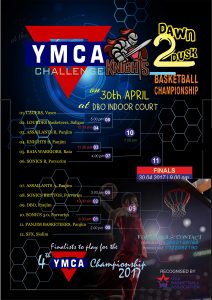 You can follow us on FACEBOOK: www.facebook.com/goabasketballassociation
Follow us on INSTAGRAM @goabasketball