25th Aliens Basketball Championship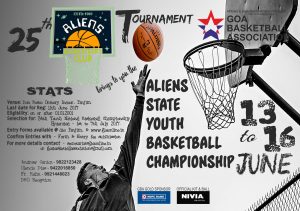 Aliens Basketeers Club will celebrate its 25th Edition of its championship by organising the State Youth Championship from the 13th – 16th June 2017 at the Fr. Benedict Memorial Indoor Basketball Court at the Don Bosco Oratory, Panjim Goa.
All those born on or after 01.01.2001 are eligible to participate. Schools, Higher Secondary Schools, Institutions and clubs are invited to participate in this championship organised in association with the Goa Basketball Association. During the championship, the GBA selection committee will add to the already short listed names of the open trials, held last month, to be part of the Goa State Youth Basketball Team due to participate in the 34th Youth National Basketball Championship for Boys and Girls organised by BFI in association with Telangana Basketball Association at Hyderabad from 1st to 8th July 2017.
Entry forms are available at DBO office Panjim, Andrew (9822123428), or on www.gbaonline.in. Last date to submit entries is 11th June 2017.
Youth SC2017_RegistrationForms. Kindly send the filled form to goabasketballassociation@gmail.com