LOURDES are GOA YOUTH BASKETBALL CHAMPS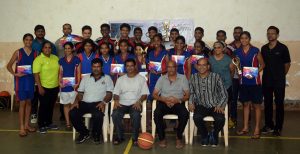 The 25th Aliens Basketball Championship organised as the State Youth Basketball Championship had Lourdes Convent High School, Saligao dominating the proceedings in both the boys and girls sections.
In the girls finals, the Nathan twin duo, kept the tempo upbeat right from the first moments of the match, not allowing the Chubby Cheeks girls to have a free hand. In the end Lourdes convent had a comfortable victory 42-6, with Shimei Nathan (25) and Shimron (6) doing the bulk of the scoring. Rithika Po (5) did the bulk of the scoring for Chubby Cheeks.
In the Boys section, Naval Children School played a brave game for almost three quarters of the match with Lourdes Convent, to maintain a steady defense and scoring regularly with a good defensive game. Lourdes Convent showed their true colours in the last quarter with Bavesh swinging into action and giving Lourdes a 9pt lead to claim the State Title 27-18. Jeshua Pinto (13) and Bavesh Bijoy (8) played well for Lourdes while Akash Yadav (6) played well for NCS, Vasco. Shemei Nathan and Jeshua Pinto were most Valuable Player award for the girls and boys respectively.
The Chief Guest, Fr Joel D'Souza (Director Don Bosco Aspirantate) and Girish Lotlikar (Vice President GBA) among other GBA officials were present for the Finals.
Photo Credits: The Lourdes Convent boys and girls teams with their trophy and certificates, along with the Chief Guest, Fr. Joel D'Souza, and Guests of honour, Mr. Girish Lotlikar, Fr. Ralin De Souza, Andrew Cardozo and Ashley do Rosario.