BCG – Basketball Coaches Guild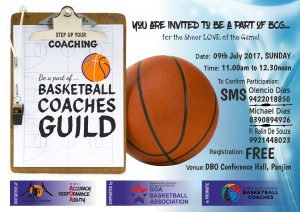 AOA Basketball Academy, with the support of Goa Basketball Association, is beginning its new initiative in Basketball Development – the BASKETBALL COACHES GUILD (BCG). This is a forum for Basketball Coaches in Goa to garner and pull in resources for the benefit of developing Basketball in Goa. With the growing number of Schools and Children showing interest in basketball and a dearth of Coaches for Grass-root training, the AOA Basketball Academy with its trained coaches, decided to gather the Basketball Coaches in Goa under one umbrella. It's main initiative, to build healthy relationships and Positive Coaching habits.
There is a strong emphasis given to sports and academics. Unfortunately many do not pay proper attention to a systematic development of sports as a discipline from the grass roots. Basketball in the recent past has seen a sudden surge of interest in Goa, India and in the world. It is acclaimed as the second most popular sport .
For the first time local minds have formed 'AOA Basketball Academy' with trained FIBA/WABC coaches  as well as periodic exposure to visiting national and international coaches. AOA felt the need to organise the Basketball Coaching Education in GOA to prepare adequately to the newly changed Coaches Program by FIBA under the supervision of WABC (World Association of Basketball Coaches).
AOA Basketball Academy wishes to INVITE any PE Teacher or INTERESTED Coach of various Schools – Clubs – Centres to join in this initiative to develop systematic training for Basketball Coaches. There will be regular monthly meetings, where resources will be shared for the benefit and advantage of your School PE Teacher or Coach.
The first of the BCG MEETING will be held on 9th JULY 2017 (Sunday) from 11.00AM to 12.30 PM at the Don Bosco Oratory, Conference Hall, Panjim.
Those interested need to confirm your Participation with a simple SMS from your Mobile with Your NAME to Shri Olencio Dias (9422018850), Shri Michael Dias (8390894926) or Fr. Ralin De Souza (9921448023).
The PARTICIPATION IS FREE of COST. The only COST involved is your SINCERE INTEREST & LOVE for BASKETBALL. If you wish to develop your coaching skill than you should not miss this opportunity.