Youth Nationals at Hyderabad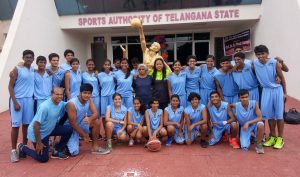 The Goa Youth Basketball Team performance at the 34th Youth National Basketball championships in Hyderabad, may not be the best in terms of victories, but it has surely given the goan youth players a boost in terms of their performance. If numbers are not the only criteria to go by, even though the girls didn't win a single game, and the boys pulled a decently comfortable victory over Puducherry, both the teams played much better than the past years. This is indeed indicative of the forward movement.
The Boys were placed in Group F along with Andhra Pradesh, Puducherry and Telangana. The girls were placed in Group C with Haryana and Himachal Pradesh.
The boys lost to Andhra (73-16), hosts Telangana (49-15), and also managed to make a convincing victory with Puducherry (46-12). The girls on the other hand went down fighting to Himachal Pradesh (27-49) and Haryana (36-16).
In the tougher situations and in necessity is talent born. We had a few new discoveries: Jeshua Pinto, Aryan Shetye, Bavish Bijoy and Primanshu Tripathi proved they could perform in tense moments. Blaine and Daniel were quick to score with unorthodox styled shots. Among the girls, while the Nathan sisters (Shimei & Shimron) kept the tempo of the game, they were ably assisted by the captain Katherine, Wallencia, Naomi and Shereen. The stints played by Megan and Arantxa can't be forgotten.
Let's face it… the movement has just begun and Goa is making strides to keep up to the pace with the rest of India. We will surely have much more basketball till the youth take on the challenge again in the next year.