Goa Sub-Junior Teams Leave for Nationals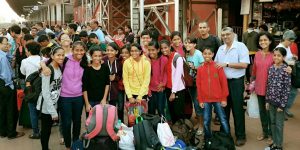 The Goa State Sub-Junior Basketball Team left for the 42nd SubJunior National Basketball Championships for Boys and Girls in Puducherry, this morning (31st January 2016) by the Mangalore Express, at 7.15 am.
The excited little masters along with their parents assembled well in time even though the reporting time was very early Sunday morning. Most of the children who will be participating in a Major National Tournament were all enthusiastic about the experience.
With a systematic training this time, the coaches were apprehensive of a positive performance by the Goan Cagers.
The GBA President, Fr. Ralin De Souza, the Secretary, Mr. Ashley Do Rosario, Selection Committee Chairman, Mr. Olencio Dias, and numerous parents and well-wishers are around to see the team off.
NIVEA is the official Kit sponsor of the Goa Basketball Teams.