Goa State SubJunior Teams
The Goa Basketball Association's Selection Committee has confirmed their final 12 in the State Sub-Junior Squad to represent Goa at the 42nd Sub-Junior National Basketball Championships for Boys and Girls to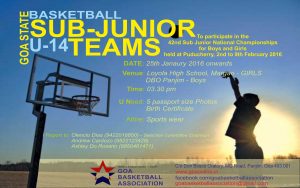 be held in Puducherry from 2nd to 9th February 2016.
It may be recalled that after a state Championship in December 2015, and an Open trials held on 6th January 2016, a group of 15 boys and 15 girls were short listed for a training camp that began in 15th January 2016. Before the final lap of the training Camp, the GBA normally short lists the final 12 to represent the state team, and focus on the team in the last 7 days before the departure for the Nationals.
In the Boys team are: Johann Martins, Andre Noronha, Joshua Menezes, Selwyn Coelho, Shanon D'Costa, Pranav Ganipisety, Faizan Shaikh, Bryson Gracias, Clive Esperance, Shubham Singh, Daniel Godinho and Milan Ferus Camelo.
In the Girls team were selected: Ayesha Vas, Catherine Barretto, Kimron Vas, Angelica Gonsalves, Sweta Raijadhav, Arantxa Rodrigues, Wallencia Cardozo, Shereen Miranda, Elaine Gracias, Shimei Nathan, Shimron Nathan and Nicole Yadav.
The Boys will have their intensive training camp at the DBO indoor Stadium, while the Girls will be trained at the Loyola High School, Basketball Court.