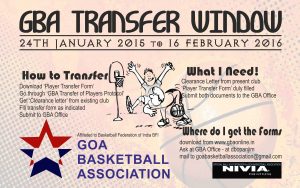 Goa Basketball Association officially announces its transfer season from 24th January to 16th February 2016. The transfer of players will be done in accordance with norms set by the Goa Basketball Association as 'Players Transfer Protocol'. All transfers done within the transfer period should be accompanied by a 'Clearance Letter' from the relieving club, and a GBA Player transfer form available on the GBA Official Website/office duly filled. Transfers within the period stipulated will be done free of cost by the GBA. All transferring players would be issued new Player registration ID Cards by the 18th of February 2016. Any transfer of Player done beyond the Transfer window will be done at a transfer cost of `1000/- to the GBA office as per transfer regulations announced earlier.
The Transfer protocol has been drawn up for GBA in accordance with the Transfer rules set out by FIBA and BFI to facilitate transparent and fair transition of players and with the interest of the Player and development of the discipline of Basketball in mind. Those who wish to clarify issues or ask queries concerning the Transfer can contact the Hon. Secretary Mr. Ashley Do Rosario (9850461471) and/or mail to goabasketballassociation@gmail.com.
The GBA season will end in December 2016 and/or by the announcement of the next transfer season to be announced in January 2017, following which Teams/Clubs/Institution would be expected to renew their membership for the following season.
Kindly read GBA TRANSFER OF PLAYERS PROTOCOL
Kindly download, fill and Submit PLAYER TRANSFER FORM