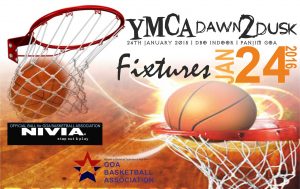 YMCA Knights will be organising the first 'Dawn to Dusk' Basketball Festival Tournament of 2016 at the Don Bosco Oratory Indoor, on the 24th of January 2016. 12 Registered teams will be competing in a day long tournament to claim the title for the Dawn to Dusk Champions.
The matches will begin at 8.30 am onwards, and the semi-finals will be played from 6.00pm onwards. The Finals will be held at 9.00pm. All Basketball Enthusiasts are welcome.
The Tournament is Festival Event recognised by Goa Basketball Association, and NIVEA is the OFFICIAL BALL of the Event.